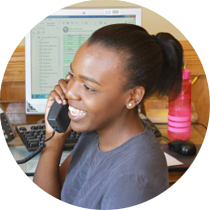 ESTHER MAJWEGA
December 1, 2015
Esther Majwega was happy to answer calls to the Mayor's Office from citizens of Lowell; and the Mayor's Office was happy to have her. For the second summer in a row she assisted Mayor Rodney Elliott and his aide Celine Gettings with the day-to-day operations of the fourth largest city in Massachusetts.
Esther has worked in the fast food industry, at Lowell Community Health Center and volunteered at the Lowell Folk Festival, but she really enjoyed talking to residents about everything from trash pickup to broken street lights to illegal parking and addressing their concerns and solving their problems. She also helped Ms. Gettings prepare information for the Mayor and eight city councilors to review before their weekly public meetings. As part of the GLWDB and Career Center of Lowell Youth Summer Jobs Program, Esther was specifically requested by the mayor's office to return to her position for the summer of 2015.
Mayor Elliott said of Esther and her work:
"Esther was one of our finest interns we have had throughout the years.  She was pleasant, professional, hardworking and bright.   No task was too small.  She helped everyone who called with a problem or concern with the same enthusiasm.  She was truly an outstanding young lady.  I am very proud of her and I know she will be outstanding in her career."
Born in Uganda, Esther and her family came to the United States to start a new life. At Lowell High School, Esther had three years in a row of perfect attendance. Esther has a hearing impairment that has not stopped her from excelling at school and in the workplace and will be enrolling at Worcester State University to study to become an audiologist; diagnosing and treating others hearing and balance problems.
Other Success Stories
View other success stories that took place right here in the Greater Lowell area. Will you be the next success story?
Didn't Find Your Answer?
Please don't hesitate to contact us and we will be happy to help you find the answers to your questions!