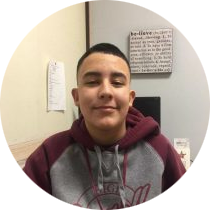 JESUS RODRIGUEZ
February 27, 2018
Jesus is a young adult who came fleeing the disaster of Hurricane Maria in Puerto Rico, along with his family. It was very difficult to leave his island and start over. When this student arrived at Lowell High, he was desperate to find a job that would give him the opportunity to help his family in their new home. Connecting Activities staff contacted one of the Dunkin Donuts managers and she immediately wanted to help Jesus. He has been working at Dunkins for two months and is happy to have this job and continue his studies at the same time.
Other Success Stories
View other success stories that took place right here in the Greater Lowell area. Will you be the next success story?
Didn't Find Your Answer?
Please don't hesitate to contact us and we will be happy to help you find the answers to your questions!