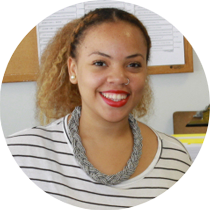 INDIANA POLANCO AGUEDA
November 30, 2015
Indiana Polanco Agueda is headed off to Middlesex Community College to study nursing, but this summer, as part of the GLWIB and Career Center of Lowell Youth Summer Jobs Program, she provided much needed support to the staff of the Career Center. Indiana provided assistance to staff in a number of ways: greeting and directing career center customers to workshops; filing and copying; even providing Spanish translation. She was a positive presence throughout the summer and helped out wherever needed.
Indiana had prior work experience at a local Burger King, but she prefers a work environment where she can help people. In fact, she plans on continuing her education beyond an associate's degree and will transfer to a 4-year institution for a bachelor and masters degree in nursing. Her ultimate goal is provide medical care to people in poor countries that do not have the care they need now.
Indiana is a product of Lowell High School, were she was a member of the International Language Club and the Junior Reserve Officer Training Corps (JROTC.) JROTC is "a group of people striving to become better citizens, using the military system to guide us, NOT recruit us." In the JROTC program students like Indiana learn discipline, leadership skills and perhaps most importantly perform thousands of hours of community service each school year.
We she isn't in school, working or serving the community, Indiana enjoys shopping and spending time with her family.
Other Success Stories
View other success stories that took place right here in the Greater Lowell area. Will you be the next success story?
Didn't Find Your Answer?
Please don't hesitate to contact us and we will be happy to help you find the answers to your questions!